My story
It was 1985. At that time I was studying at the Faculty of Veterinary Medicine in Parma and I was dreadfully focused on passing an exam after the other. I barely had the time to enjoy the good result of an exam when I had to start studying for the following one.
In one of the rare stops I allowed myself, I decided to get me a beautiful record. So I went to a record shop in the centre of Genoa, the city where I used to live and where I work nowadays.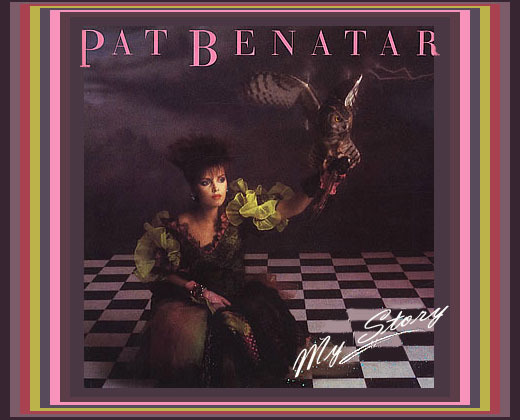 Here I had my first impact with Pat Benatar.
I perfectly remember that I was struck by the cover of "Tropico" and I immediately asked the shop-keeper if I could listen to the record. I was literally ravished by her music and I listened to the whole record, almost surprised that the dealer didn't lose his patience.
A lot of musical influences attracted me in those days, but Pat Benatar's music dominated all the others. So I also tried to awaken all my friends until I found myself in one of the first summer journeys abroad with my friend Dena singing along the streets of Scandinavia "Painted desert" and "We belong" at the top of our voice.
In the late nineties in Italy the trail of Pat Benatar disappeared because of lack of promotion for her records in Europe. On the other hand, I was going through the delicate phase of starting my own business and I couldn't find the time for my favourite singer.
Some years later my wife went to visit her sister who at the time used to live in Stanford, California. I asked her to buy some Pat Benatar's albums that were unavailable in Italy. She came back with "Innamorata". The cd gave me a shake and made me understand that in Italy we didn't know anything at all about Pat, not because her artistic career was finished but simply because the promotional activity had reduced their frontiers of action.
From here to gather all the information on the internet the step was very easy. So I discovered how the concert season of Pat and Neil was extremely intense every year. That's how I got the idea: why not to go once in a lifetime to see on stage my favourite singer in the United States? I said it and I did it.
In the summer of 2004 I allowed myself one of the best holidays in my life. I bought the tickets for two gigs on the internet and I went to New York. At the B.B.King Blues Club, in the heart of Times Square, I satisfied my desire to attend a Pat concert very close to the stage in a surrealistic atmosphere, sat down at a table and cuddled by a kind waitress.
Nothing, however, compared to what happened in the second concert at the Turning Stone Casinò in Verona, NY. Here, for a lucky chain of events, I met some irreducible Pat Benatar fans, the very nice Robin and the inscrutable Harold Bottomley from the American fan club. That night I definitely had a stroke of luck because, without almost realizing, in a few minutes we were received in her dressing room by Pat Benatar in person. I clearly remember 'like an action in slow motion' when I walked through the corridor that led me to Pat, who was there to receive us with folded arms and an almost inquiring smile. But was I dreaming or was I "wide awake in dreamland"? The welcome was warm and natural from all the band members, including Neil, and they put ourselves at ease. After twenty minutes of greetings, photos and autographs Pat hugs me and says "Ciao bello!". Fainting could have been easy, but I held out.
More than two years have elapsed since that meeting and in the meantime the idea to fill this Italian gap about Pat Benatar grew on me. That's why I created a website with an English translation, so that it can be enjoyable for anyone.
Hopefully these pages will be able to convey the positive energy that Pat and Neil transmit with their activity and that is reflected in all the fans!
Ciao
Luca Ansaldo
Let's your dream become true!