PAT BENATAR'S POP EXOTICA: "TROPICO"
Review by Quentin Harrison january 7, 2009
Grandiose sounds are the essence of Tropico (1984), Pat Benatar's fifth studio recording. The album signified a departure and reimagining for the rock vocalist. With In the Heat of the Night (1979), Pat Benatar surged forth with a grit and sex appeal instantly setting her own mold, becoming an early MTV staple in the process.

Yet, by 1982, the femme fatale role had become suffocating for Benatar, as she herself would confess many times over. This suffocation showed on the uninspired new wave sputtering of the Get Nervous album.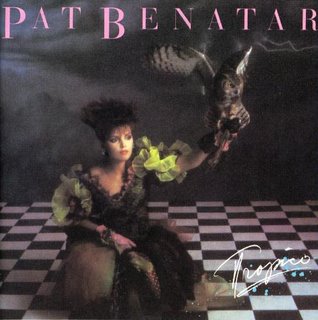 Clearly aspiring for an artistic out, she found it on the classic "Love is A Battlefield," from her Live From Earth LP (1983). The song was tough, but showed more stylistic range than she'd been given credit or known for.
Most are unaware that Benatar's start was in opera, and she would learn how the sing the sharp edges of rock 'n' roll later before becoming a major label star. That alone professed Benatar had ambition beyond the Top 40 rock format which had boxed her in. With her guitarist/husband, Neil Giraldo, and her stalwart band: Charlie Giordano (keyboards), Roger Capps and Donnie Nossov (bass), Myron Grombacher (drums), Tropico was forged.

Production duties were split between Giraldo and Peter Coleman, and the songwriting was handled in equal measure by Benatar, Giraldo, Coleman, and her band members.

A cornucopia of lyrics, vocal readings, and song arrangements, the record was designed to bring across "shades" rather than "blasts." Said "blasting" had been a characteristic of Benatar's prior work. The "shading" however placed emphasis on the intricacy of the song, versus its power, meaning everything was situated perfectly, never out of place. Some would say that lends to an air of boredom instead of spontaneity. At this period for Benatar, it was a step forward into musical maturity.
Epics such as "Painted Desert" and "Outlaw Blues" are deep, meditative folkloric tales, and as such Benatar turns in vocals that manage to put use to her amazing technical skill, but in a far more affecting fashion. More than mere ballads, both sport a "spaghetti western" guitar element. There is also diverse keyboarding and production techniques with an eye to providing a warm, adult pop springboard for Benatar.

Benatar herself gives solid performances throughout, alive and aware of the material, and her presence adds to the intensity of the song structures. She walks through echoing sonic hallways, spins upward through percussive pops, and soothes any appearance of a frantic guitar cry.

It isn't all demure watercoloring though, Benatar manages an uptempo slant on "Temporary Heroes" with its interesting use of drum loops. The dark and dense "Diamond Field" is a production fascination with is multi-dimensional vocal splicing.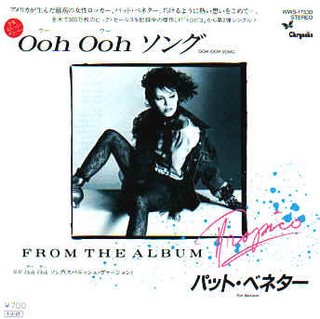 One of the many stars of Tropico is the swing blues explosion, the "Ooh Ooh Song". The "Ooh Ooh Song" sports a meaty guitar lick that segues into a cutesy keyboard riff, Benatar then waxes the song with vitality, charm, and tang. Considered the first blue-print for her blues experiment a decade later with her True Love (1991) record, it was another success to be found here.

"We Belong," in its shimmering glory, calls this record home, but Tropico's best moments are the lesser known singles, and album cuts. Fortune has it that "We Belong" is the only well known song from the record, with amazing singles such as "Painted Desert," "Ooh Ooh Song," and "Diamond Field" tragically unknown to the general populace. They have become classics for Benatar purists or converts who've heard this album.
The record brought modest platinum sales, and did well amongst critics, while dividing fans. The fans that she lost were mostly ones that weren't receptive to the "softer" Pat Benatar, yet she gained a creative threshold that many of her contemporaries did not. Over 20 years later, Tropico ranks as one of the most endearing records Pat Benatar created. Tropico lives up to its exotic and refreshing namesake, and quenches the thirst for those looking for a different kind of excitment. Five stars.-QH

[Editor's Note: Tropico has long since been out of print and goes for a fair, if at times overpriced amount on Amazon used. eBay or a local used or indepedent record store would be the best place to find a copy. For more current information on Pat Benatar, visit http://www.benatar.com -QH]

Painted Desert
Painted Desert Live at the Filmore in 1988.
The reproduction of videos in this site is for nonprofit purposes. The material used follows the Fair Use Doctrine. Anyway all copyright holders can immediately obtain the removal of their stuff after e-mail request to the webmaster.