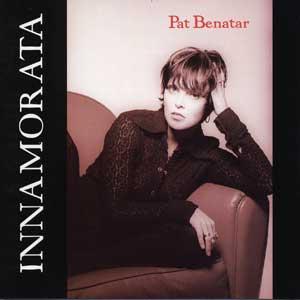 Review by Neptunian Spirit "Q" (Dayton, OH USA).
I'll start off by saying that if you are a fan of the eclectic Pat, Pat who did albums such as "Tropico", "Seven the Hard Way", & even "True Love", this record is for you.
Neil Giraldo (guitarist/husband/producer) & Pat both manage to draw together a focused record based in folk, latin, rock, & soul textures. "Innamorata" is a winner & finds Pat secure in her lyrics & voice.
Thematically, this is probably the most unified album Pat has done in quite sometime. Many of the songs deal with relationships, going through the phases of intense affection & then dissatisfaction. But, unlike the meandeing anger of "Innamorata's" follow-up 2003's "Go!", there is an world weary experience to the songs here. As if Pat put her own relationship struggles into these songs, which brings them across as genuine & passionate, rather than tired & done.
Soundwise, many of the songs are based within mid-tempo or ballad settings ("Papa's Roses"), or can pick up the pace & surprise a listener by rocking out ("Strawberry Wine", "River of Love"). Many of these mix in the folk & latin textures I spoke of very well, keeping them subtle, but close enough to the surface of the song to add flavor.
Vocally, Pat proves again why her monicker as just a "rock singer" pigeonholes her talent. This woman's voice is full of passion & conviction, sporting a control (over pitch) rarely seen.
Overall, a much more solid effort than 1993's "Gravity's Rainbow" & (as stated) 2003's misfire "Go!". Neil & Pat sound fresh here & manage to maintain why they have crafted such timeless music since 1979.
Highly recommended!
KTLA interview in Los Angeles July 1997 with the performance of Strawberry Wine and Only You.
The reproduction of videos in this site is for nonprofit purposes. The material used follows the Fair Use Doctrine. Anyway all copyright holders can
immediately obtain the removal of their stuff after e-mail request to the webmaster.